April 14, 1935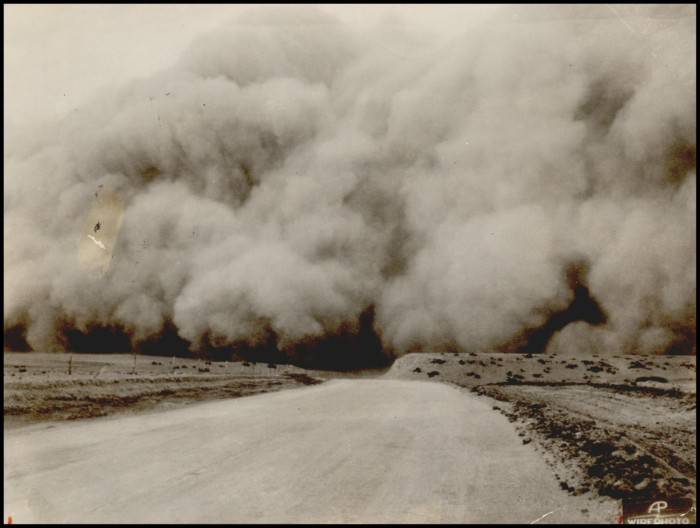 The Dust Bowl is considered the worst man-made ecological disaster in American history. In the 1930s, a severe drought combined with poor farming practices and economic depression, led to severe wind erosion of the topsoil, affecting portions of Colorado, Kansas, Oklahoma, Texas, and New Mexico. By 1938, 5 inches of topsoil was lost over an area of 10 million acres, impacting 80 percent of the High Plains.
On April 14, 1935, one of the most devastating storms swept across the region in what became known as "Black Sunday." High winds kicked up enough dirt and dust that it blocked out the sun and eyewitness thought the world was coming to an end.
The Encyclopedia of Oklahoma History and Culture has an entry on the Dust Bowl.
Voices from the Dust Bowl: The Charles L. Todd and Robert Sonkin Migrant Worker Collection is an online presentation of selections from a multi-format ethnographic field collection documenting the everyday life of residents of Farm Security Administration (FSA) migrant work camps in central California in 1940 and 1941.
Check out the Woody Guthrie Center to discover ballads written by the folk singer about his and others' experiences during the Dust Bowl. At the museum, you can also witness Black Sunday using their virtual reality display.
---
Photo Credit: Oklahoma Publishing Company Photography Collection, Oklahoma Historical Society, Gateway to Oklahoma History, Photograph 2012.201.B0170.0316.