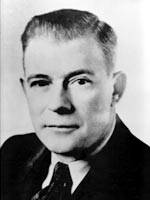 1947 to 1951 -

Roy J. Turner

Roy Joseph Turner, Oklahoma's thirteenth governor, was born November 6, 1894 in Lincoln County, Oklahoma Territory. Upon completion of his high school education, he attended Hill's Business College in Oklahoma City. He was a bookkeeper for Morris Packing Company in Oklahoma City in 1911. Five years later he became a salesman for the Goodyear Tire and Rubber Company there, and after his service in World War I with the Fifty-sixth Infantry of the Seventh Division, he was a dealer in real estate, principally in Oklahoma, Florida, and Texas. In 1926, he engaged in the petroleum industry, and with the opening of the Oklahoma City Field, he acquired profitable holdings. By 1928 he had become an independent oil producer with the Harper Turner Oil Company. In 1933, he established the Turner Ranch at Sulphur. With the acquisition of a purebred Hartford herd in 1935, the Turner ranch soon brought international recognition to Oklahoma. Turner served three terms as president of the American Hereford Association once initially elected in 1939. Turner maintained a residence in Oklahoma City where he served on the Board of Education from 1939 to 1946, including a presidency in 1945 to 1946. He resigned in 1946 to become Democratic candidate for governor. His term as Governor of Oklahoma was from January 13, 1947 to January 8, 1951.

As governor Turner sought educational improvement by increasing district property assessment to fifty percent of real value. The Common School Finance Bill required the consolidation of many school districts. In 1948, Oklahoma voters approved a legislative referendum which created a board of regents for the six state colleges at Edmond, Tahlequah, Weatherford, Durant, Ada, and Alva. This measure effectively removed them from partisan politics.

The Tax Commission was reorganized to provide for three members with staggered terms of six years each. Turner advocated a tax reduction to attract industry to Oklahoma. The legislative committee on taxation enacted a one-third reduction in individual and corporate income taxes and lowered other levies.

The State Highway Commission was reconstituted by replacing the three-member commission with an eight-member commission; one from each of the congressional districts. The Legislature enacted a law authorizing the construction of an Oklahoma City to Tulsa toll road. The road, which later became known as the Turner Turnpike, was the first of this type in the Middle West.

Turner advocated expanded use of the state's resources, soil conservation, and the development of recreational facilities in Oklahoma. He encouraged agriculture through a reform of the State Board of Agriculture. Other legislation dealt with the State Planning and Resources Board, the Budget Control System, a Children's Code Commission, and a State Legislative Council. The duty of the Council was to study legislative needs and to prepare bills for the legislature. A proposal to repeal prohibition was defeated.

Probably the most significant development occurring in the Turner administration was the desegregation of higher education Oklahoma. Schools from elementary through graduate college levels had been segregated since statehood under license of the "separate but equal" doctrine of the Plessy v. Ferguson decision (1896). Yet, the 1946 Sipuel Case and the McLaurin case of 1948 drew attention from the nation's highest court. The U.S. Supreme Court ordered all colleges, schools, and departments of higher education, not only in Oklahoma, but across the country, to be desegregated during the summer of 1949. The decision was a turning point in civil rights development in the United States and the school system in Oklahoma.

Turner ran again as candidate for governor in 1954, but lost the election. He remained active at his ranch with the Hartford herd, and as a Mason, Shriner, and a member of the American Legion. He lived in Oklahoma City until his death June 11, 1973, and is buried in Rose Hill Cemetery there.

BIBLIOGRAPHY:
Gibson, Arrell M. Oklahoma: A History of Five Centuries. Norman, Oklahoma: Harlow
Publishing Company, 1965; Dale, Edward Everett. History of Oklahoma. Edmond, Oklahoma: Thompson Book and Supply Co., 1972; Oklahoma Almanac. Oklahoma City: Oklahoma Department of Libraries, 2003-2004.