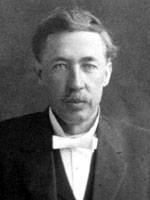 1911 to 1914 -

Lee Cruce

Lee Cruce, the second Governor of Oklahoma, was born near Marion, Kentucky on July 8, 1863. Educated at Marion Academy, he later received his law degree from Vanderbilt University. He joined his brother's law firm at Ardmore in Indian Territory in 1891. Ten years later he entered the banking business as the first cashier at the Ardmore National Bank and eventually became its president. In 1901 he was elected alderman. As a candidate for Governor in 1907, Cruce lost the Democratic nomination to Charles N. Haskell. He ran again in 1910, was elected and served from January 9, 1911 until January 11, 1915.

During his term, Cruce established a three member State Capitol Commission, which purchased land for the State Capitol. The Legislature appropriated $750,000 for its construction and a groundbreaking ceremony was held on July 20, 1914. Cruce pioneered in the movement to abolish capital punishment by commuting twenty-two death sentences to life imprisonment. With the increase in automobiles, the Legislature acted upon Cruce's recommendation and established the Oklahoma Department of Highways in 1911. Roads were improved with funds generated from an annual one- dollar license fee.

Cruce also supported enforcement of "blue laws," which closed businesses on Sundays, and declared prize fighting, gambling, bootlegging and horseracing illegal. The Legislature appropriated money for one law enforcement officer, but he could do little to patrol the entire state. On numerous occasions, the Governor called out the state militia. Perhaps the most sensational incident occurred when Tulsa fell under martial law to stop a horse race. The race was brought to a halt as shots were fired over the heads of jockeys.

The executive branch lost its dominance over state congress after Governor Charles Haskell's term and did not regain it until 1930. Governor Cruce struggled for political power with the Legislature. Congressional reapportionments nearly resulted in the downfall of his administration. In 1912, Cruce vetoed a bill to reapportion the state into eight congressional districts designed to minimize Republican voting strength. This veto as well as the Governor's attempts to abolish some public institutions for economic reasons, led the legislature to investigate the executive branch. As a result, the State Auditor, State Insurance Commissioner, and State Printer were impeached. Cruce escaped impeachment by a single vote.

After he left office, Lee Cruce continued his career as a lawyer and banker. Although his political career as Governor was permeated with legislative controversy, he ran in the 1930 primary for United States Senate, but faced defeat. He died on January 16, 1933 at his daughter's home in Los Angeles, California. He is buried in Rose Hill Cemetery in Ardmore.