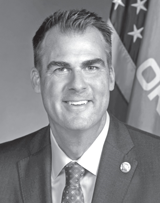 2018 to present -

Kevin Stitt

J. Kevin Stitt, the 28th governor of Oklahoma, is leading the state with a vision to become top "Ten" in critical categories, from government accountability to job growth, infrastructure, education and more.

Stitt is an Oklahoman entrepreneur and businessman, who founded Gateway in Jenks, Oklahoma, in 2000. Starting Gateway with only $1,000 and a computer, Stitt grew his business into a nationwide mortgage company operating in more than forty states and servicing more than $17 billion in residential mortgages. In January 2019, Gateway was approved by the FDIC to acquire Farmers Exchange Bank, a community bank originally founded in 1935 in Western Oklahoma. Today, Gateway First Bank is one of the ten largest banks in Oklahoma with $1.2 billion in assets, 160 mortgage centers across the United States, and more than 1,200 employees. Gateway's headquarters are located in Jenks, Oklahoma.

Stitt is a fourth-generation Oklahoman, raised in Norman, where he graduated from Norman High School. An alumnus of Oklahoma State University, he received a degree in accounting in 1996. Stitt and his wife, Sarah, have been married for twenty-one years, and together, have six children.
---
BIBLIOGRAPHY:
ABC: Oklahoma Agencies, Boards, and Commissions. Oklahoma Department of Libraries, September 2019.