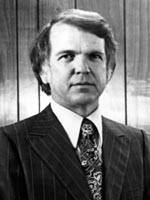 1963 to 1963 -

George Nigh

George Patterson Nigh, Oklahoma's seventeenth and twenty-second Governor, was born in McAlester on June 9, 1927, son of Wilbur R. and Irene Crockett Nigh. Nigh attended public schools in McAlester and Eastern Oklahoma Agricultural and Mechanical College at Wilburton. From June 1945 through September 1946, he served in the U.S. Navy. Nigh was granted a Bachelor of Arts degree from East Central State College at Ada in 1950 when also elected to the House of Representatives on the Democratic ticket. At that time, the legislature met every other year. Nigh taught history at McAlester High School from 1952 to 1958, taking a leave of absence when the legislature convened. Nigh served in the House of Representatives for three terms, from the twenty-third through the twenty- sixth legislatures.

Nigh was elected Lieutenant Governor, the youngest in the state's history, in 1958, and worked to increase state tourism. In 1963, Nigh became the seventeenth Governor of Oklahoma, filling an unexpired nine-day term following the resignation of Governor J. Howard Edmondson. During those nine days, Nigh appointed Edmondson to the United States Senate seat upon the death of Robert S. Kerr. Also, Nigh signed a contract with the federal government for funds to build Fountainhead and Arrowhead state lodges. After his term, Nigh worked for the United States Jaycees. He was elected Lieutenant Governor again in 1966, 1970, and 1974.

Continued…George Nigh's governorship from 1979 to 1987.

BIBLIOGRAPHY:
Oklahoma Almanac. Oklahoma City: Oklahoma Department of Libraries, 2003-2004.