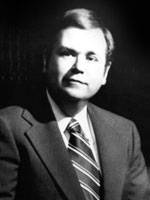 1975 to 1979 -

David Boren

David Lyle Boren was born in Washington, D.C., April 21, 1941, the son of Congressman Lyle H. and Christine McKown Boren. He attended public schools in Seminole, Oklahoma and Bethesda, Maryland. He graduated from Yale University Summa Cum Laude, receiving a B.A. degree in 1963; graduated with honors with a M.A. degree as a Rhodes Scholar from Oxford University, England in 1965; and received his J.D. degree in 1968 from the University of Oklahoma, where he was class president of the College of Law. Admitted to the Oklahoma Bar in 1968, he commenced practice in Seminole. In addition, he was Chairman of the Division of Social Sciences and professor of political science at Oklahoma Baptist University. Boren also served as Company Commander of the Oklahoma Army National Guard. He was elected to the State House of Representatives as a Democrat in 1967 and served until his election as Governor in November 1974. He was inaugurated January 13, 1975 and was the youngest governor in the nation when he served.

Boren's term as a reform governor saw the passage of a package of reforms, including the Open Meeting Act for public bodies. Boren ran with a broom as his symbol and pushed through other progressive measures such as conflict-of-interest laws, campaign financial disclosure, and more competitive bidding on state government contracts.

As governor, Boren promoted key educational initiatives which have had an enduring impact on Oklahoma, including the Oklahoma Summer Arts Institute, the Scholarship-Leadership Enrichment Program, and the Oklahoma Physicians Manpower Training Program, which provides scholarships for medical professionals who agree to practice in Oklahoma's underserved rural areas. Also, the first state funding for Gifted and Talented classes was provided in 1976 and, from 1976 through 1978, Oklahoma ranked first among all states in the percentage increases of funding for higher education.

The state also saw substantial increases in funding for education, a drop of welfare rolls, and a boost in appropriations for law enforcement during the Boren years. The state also eliminated the state inheritance tax between husband and wife. The executive branch of state government was also streamlined with the elimination of the Office of Commissioner of Charities and Corrections while combining the elective offices of State Auditor and State Examiner and Inspector into one elective office called Auditor-Inspector. The offices of Secretary of State, Labor Commissioner, and Chief Mine Inspector became appointive. Also, measures were passed changing the state budget balancing amendment to eliminate boon-and-bust financing.

After his election to the U.S. Senate in 1978, Boren served as governor until January 3, 1979. With only five days left, Lieutenant Governor George Nigh was sworn in to fill an unexpired term. Boren served successive terms as U.S. Senator until he became president of the University of Oklahoma in Norman in November 1994.

BIBLIOGRAPHY:
Oklahoma Almanac. Oklahoma City: Oklahoma Department of Libraries, 2003-2004; Daily Oklahoman, November 4, 1990; Daily Oklahoman, October 23, 1998.